Aspiring banjo players are often told to go learn from the masters. One such master has made that task a little easier with the release of a
new book of tunes
.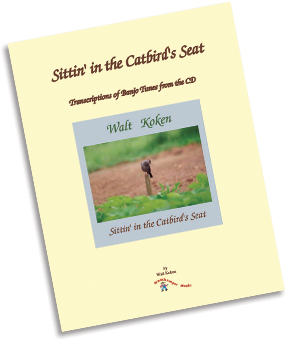 Walt Koken's upcoming release is a transcription of the tunes on last year's "
Sittin' in the Catbird's Seat
," his first solo album in 15 years. Koken, of course, is well known in old-time music circles as a former member of the
Highwoods Stringband
, a current
Orpheus Supertone
, and co-conspirator of the "
Milliner-Koken Collection of American Fiddle Tunes
."
"Sittin' in the Catbird's Seat" features original and old-time tunes and songs played in clawhammer and three-finger banjo styles. Sources include Dock Boggs, Hobart Smith, Mississippi John Hurt, Frank Hutchison, French Carpenter, and Scott Joplin. The companion book is 48 pages long and printed in an oversized, easy-to-read format with spiral binding so that you can lay the book flat.
The book is suitable for all levels of clawhammer players, as long as they're familiar with the basics, and bluegrass players will find it interesting for the arrangement of Scott Joplin's "Maple Leaf Rag" and Koken's original "Peaceful Times," which was inspired by the playing of Earl Scruggs.
The book will be available May 15, for the list price of $30, but pre-sale orders will be offered a discount of $25 for the book or $35 for the book and CD. Visit
Mudthumper Music
for more details and ordering information.